The ORC Speed Guide gives you customized performance polars for your boat. Click here to learn more.

Read the latest ORC Newsletter for more information about the ORC system, ORC-scored events, and personalities in the ORC culture that help make it the largest science-based handicap system in the world.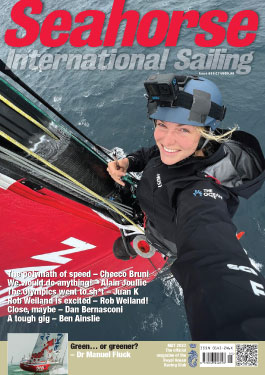 All ORC certificate holders have FREE bi-monthly access to Seahorse Magazine - in digital format. Click on the issue cover page image above for more information.

LATEST ORC COLUMNS
IN SEAHORSE
March 2023
January 2023
November 2022
September 2022
July 2022
May 2022
ORC Europeans 2023 gaining momentum

With one month to the close of the early-bird discount entry deadline (28 February), already there are 33 teams from 10 nations committed to compete in Malta for the 2023 ORC European Championship, hosted by the Royal Malta Yacht Club with help from the Offshore Racing Congress (ORC). More ...
Tutima returns to the race course

It is the comeback of the year 2023: "Tutima" (owner Jörg Delecate/watch manufacturer Tutima Glashütte) returns to the championship regatta scene at the ORC World Championship off Kiel (August 4-12). The all-female crew organized by skipper Kirsten Harmstorf-Schönwitz (Mühlenberger Segel-Club/MSC) More ...
2023 ORCsy Rule and VPP now available

The Offshore Racing Congress (ORC) is pleased to announce that its 2023 rules and VPP for the racing of Superyachts is now available. This sophisticated system specifically designed for the vast array of boat types of over 30 meters in length that compete in Superyacht regattas around the world More ...
ORC Measurement Seminar in Malta

In preparation for the ORC European Championship Malta 2023, ORC and the Royal Malta Yacht Club are offering a two-day comprehensive Measurement Seminar to be held at the Royal Malta Yacht Club between Saturday and Sunday, February 4-5, 2023. An introductory presentation on the ORC rating system More ...
Winners crowned at Southernmost Regatta

After four days of windward/leeward course racing in light to moderate breezes, and a final day of no-wind conditions, two class winners emerged at the second annual Southernmost Regatta held last week in Key West, Florida. Victor Wild's TP52 FOX recovered from a tough first day of last place More ...
35th Pineapple Cup Montego Bay Race set to start

The Pineapple Cup-Montego Bay Race, an 811-nautical mile sailing race hosted biennially by the Montego Bay Yacht Club and Storm Trysail Club, with support from platinum partner Appleton Estate, is excited for the start of the 35th edition of the offshore classic. The Pineapple Cup, first run in 1961, More ...
Kiel ORC Worlds supported by participants and partners

Reigning World and European champions, former World champions and runners-up will also meet absolute newcomers – there are currently entries from twelve nations – and strong partners from the business community. The ORC World Championships are being held from August 4 to 12, 2023 off Kiel. More ...
Southernmost Regatta starts in Key West

Racing starts today in the annual Southernmost Regatta in Key West, Florida. The event will be five days of inshore racing, with the GL 52 Class of four TP52's racing in one course area, while 8 teams of mixed boat types will racing in an ORC Class in another course area inside the reef. More ...
Rolex Circuito Atlantico Sur 2023

One of the most important events of the South American racing calendar is the "Rolex Circuito Atlántico Sur 2023", co-organized by the Yacht Club Argentino (YCA) and the Yacht Club Punta del Este under the auspices of ROLEX. The cities of Buenos Aires and Punta del Este are preparing to welcome the best sailors. More ...
ORC 2023 VPP and Rules now available

The The Offshore Racing Congress (ORC) is pleased to announce its 2023 Rules and the Velocity Prediction Program (VPP) are now available. Distribution of the ORC Manager software that runs the VPP to generate certificates, ORC Speed Guides and other ORC products has been made to ORC Rating Offices around the world. More ...
Hooligan overall winner of Lauderdale to Key West Race

The third in the four-race Islands in the Stream series of the SORC was the Ft Lauderdale to Key West Race, a 160-mile journey south towards Miami, turning southwest and then west towards the finish at Key West. With marks of the course positioned along the Florida Keys, this classic race has the fleet hugging close to the islands More ...
Celestial withdraws, Gweilo new ORCi winner in Hobart Race

After discovering that ORC Rule 208.2 prohibits tacking a Headsail Set Flying and an Asymmetric Spinnaker simultaneously in front of the forestay, the ORCi overall winner CELESTIAL has withdrawn from scoring in that division of the Rolex Sydney Hobart Race, and a new winner emerges: Matt Donald and Chris Townsend's TP 52 GWEILO. More ...
Celestial and Mistral are ORCi winners in Hobart Race

Sam Haynes's TP52 CELESTIAL and Rupert Henry's Lombard 34 MISTRAL are overall winners in the ORCi and the 2-handed ORCi divisions, respectively, in the 2022 Rolex Sydney to Hobart Race. Henry was racing with team mate Greg O'Shea. Both wins were achieved in relatively small margins of corrected time. More ...
Simon Forbes joins ORC team

UK-based multihull expert Simon Forbes has joined the team at ORC to help manage the issuing of ORCmh (ORC MultiHull) certificates, a new product line for ORC. His appointment is effective immediately. Forbes brings four decades of expertise in an impressive range of skills in the Multihull world. More ...
2023 ORC Mediterranean Championship now open for entries

Organizers from the Circolo Remo e Vela Italia are pleased to announce that entries are now open for the 2023 ORC Mediterranean Championship, run also as the Campionato Nazionale del Medio e Basso Tirreno (CNT). Racing dates for the event are 19-21 May 2023 and are within the Tre Golfi Sailing Week. More ...
2023 ORC Double Handed Europeans now open for entries

The Helsingør Sailing Club is pleased to announce that the registration and entry process for the 2023 ORC DH European Championship is now open. The event will take place from 10-17 June 2023 and is being held under the authority of the ORC, the Danish Sailing Association along with Helsingør Sailing Club. More ...
Callisto, Leading Edge and Rockstar winners in Palm Beach Race

The annual Wirth Munroe Miami to Palm Beach Race is the second event of the SORC Islands in the Stream Series, and this year featured 21 boats racing in three classes using ORC ratings. The 60-mile course is an annual favorite for teams wanting what is usually a high-speed day race followed by a fabulous dinner More ...
2023 ORC World Championship in Kiel now open for entries

The Kieler Yacht Club and the the Offshore Racing Congress (ORC) is pleased to announce that the Notice of Race is now published and the official registration and entry process is now open for the 2023 ORC World Championship to be held over 4 - 12 August 2023.
At the end of the Pre-registration period More ...
Outstanding achievement for the sport

At the ORC's Annual Meeting last week, Dr. Wolfgang Schaefer – a decades-long offshore sailor, Farr 40 one-design World Champion and 26-year member of the ORC Management Committee – was recognized for his outstanding contributions to this organization. His long-term experience in the sport More ...
2023 ORC European Championship open for entries

The Royal Malta Yacht Club is pleased to announce that the registration and entry process is now open for the 2023 ORC European Championship to be held over 23 April – 1 May 2023. This event is being held under the authority of the Offshore Racing Congress (ORC), the Malta Sailing Federation More ...
53rd ORC Annual Meeting looks forward to 2023 and beyond

At the 53rd meeting of the ORC Congress representatives from 46 nations and World Sailing met to approve recommended improvements to the ORC rating system, the world's largest, that has issued nearly 14,000 certificates for monohulls, multihulls, and Superyachts this year to date in 2022. More ...
2023 Garmin Round Denmark Race will feature ORC

The Garmin Round Denmark Race 2023 is going to change significantly in several ways. Among the very big changes will be when the race in 2023 introduces participation by the ORC Club measurement rule as an option. This means that among the participating keelboats an overall winner will be awarded. More ...
Callisto overall winner in SORC's Miami - Nassau Race

Since 1934, some of the best offshore sailors in the world have battled for the prestigious Miami to Nassau Cup, including Ted Turner, Dennis Conner, Dick Bertram, and Ted Hood, aboard legendary boats like Running Tide, Windward Passage, Tenacious, and Boomerang. Half a generation after World War II More ...
2022 ORC Annual General Meeting 29 October - 6 November

The Offshore Racing Congress (ORC) will have the Annual Meeting of its constituent committees and the ORC Congress starting on 29 October and concluding on 6 November. The Annual Meeting is where submissions for improvement of rules and policies for the coming new year are made from national authorities More ...
2022 Rolex Middle Sea Race - Fine Fleet in for Long Haul

A global fleet has once again answered the call of the Rolex Middle Sea Race, with the 43rd edition, which starts at 1100 CEST, tomorrow Saturday, 22nd October, attracting a fleet of 120 yachts from 25 countries, including Australia, New Zealand, Canada and the United States, as well as most of Europe. More ...
ORC International Technical Committee meets 21-23 October

Members of the ORC's International Technical Committee (ITC) will have their final meeting of the year in Trieste, ITA over 21-23 October. The goal for this meeting is to summarize their research from this year and make recommendations for action on Submissions made to ORC ahead of the Annual Meeting More ...
Beugen II and Sugar are new ORC Sportboat European champions

After a wait of 6 hours from mid-morning through mid-afternoon, the lack of wind in suitable strength and stability today in the Gulf of Trieste prompted race managers to cancel racing for today at the 2022 ORC Sportboat European Championship hosted by Diporto Nautico Sistiana. More ...
Beugen II and Sugar lead ORC Sportboat Europeans into the last day

Three races were held today on the third day of racing in the ORC Sportboat European Championship, organized by Diporto Nautico Sistiana. Six are now on the scorecards for the fleet of 21 boats from 6 nations, with one final day of racing tomorrow to conclude the regatta. The morning's first race started early at 9:35 AM More ...
Il Grigio and Sugar lead ORC Sportboat European Championship

After a 22-mile coastal race to start the event yesterday, today two more races were held at the ORC Sportboat European Championship hosted by the Diporto Nautico Sistiana. Both were on windward/leeward courses, which will continue tomorrow through Saturday, the final day of the event. More ...
ORC Sportboat European Championship ready to start

After two days of preparation and measurement, racing is ready to start tomorrow for the 2022 ORC Sportboat European Championship being held at the Diporto Nautico Sistiana. Twenty-one teams from six nations have come to compete in two divisions A and B. They represent mostly popular series-built designs. More ...
International fleet set to gather for the Rolex Middle Sea Race

With the start of the 2022 Rolex Middle Sea Race just three weeks away, another fascinating contest beckons. The entry list currently stands at 120 yachts representing 25 countries. While Covid is no longer so much in the headlines, there are plenty of other uncertainties in the world but, More ...
2023 Montego Bay - Pineapple Cup now open for entries

The seasons are starting to change in much of the northern hemisphere, signaling the time is now to plan your winter sailing races. And there's no better race to put on the calendar than the Pineapple Cup-Montego Bay Race. The 35th edition of this biennial race will take place with two starts on 21-22 January 2023. More ...
Spectacular finish to Ibiza JoySail

Ibiza JoySail finished on a spectacular high note on Sunday with the superyacht fleet fully powered up in a fresh breeze to conclude the Balearic celebration of sail in some style. Delighted crews and owners were full of praise for the professional organization out on the racecourse More ...
Elaya wins Thousand Islands Race for the second time in a row

Second leg of 9th Thousand Islands Race from Porto Montenegro to finish line in Rijeka harbour would be for long retold among its participants. It was hard to imagine that all boats will finish within 2 minutes after 278 NM but that indeed happened. For almost two-thirds of the course boats were in an even fight More ...
Challenging offshore race launches Ibiza JoySail in style

Ibiza JoySail got underway on Thursday, 22 September with the diverse superyacht fleet taking on the challenge of a 70-mile offshore race from Mallorca to Ibiza, the opening act in what will be four days of competitive, friendly racing and entertaining shoreside celebrations. Light winds greeted the fleet More ...
Elaya wins Leg 1 of the Thousand Islands Race

Slovenian "Elaya" with her owner Dušan Ušeniènik at the helm is the winner of first leg of 9th Thousand Islands Race sailed on 278 nautical miles long course form Rijeka to Porto Montenegro marina in Tivat.
First leg has brought all that best describes Thousand Islands Race as one of the most demanding regattas in Adriatic More ...
Two Rolex winners in ORC classes at the Big Boat Series

After seven races sailed over four days on breezy San Francisco Bay, there are two new skippers who are wearing Rolex watches for winning their ORC classes in the St Francis Yacht Club's Rolex Big Boat Series. On impressive scores of 1-1-2-1-4-1-3, Paul Dorsey's Carkeek 40 Adjudicator team from San Diego YC More ...
A final day of spectacular sailing rounds off the Rolex Swan Cup

The 21st edition of the Rolex Swan Cup concluded today with another day of great sailing, as the Porto Cervo regatta course showed its best form. A south-easterly wind built from an initial 10 knots to reach around 20 knots in the La Maddalena channel, faced upwind by the boats of Division 1 More ...
9th Thousand Islands Race ready to start from Rijeka

Thousand Islands Race, one of the longest and most demanding Adriatic regattas will start its ninth edition at 12:00 on Sunday, September 18th from Port of Rijeka. The race that is run among more than 1000 Adriatic islands is sailed on what the organizers from Sailing Club of Rijeka and Porto Montenegro Yacht Club More ...